Coronavirus Help & Information
We are delighted to share that we are now open and welcoming guests! In accordance with Government advice, we will be offering room service meals only until we can open our restaurant and indoor spaces on 3rd August.
We have stepped up our already stringent cleaning regime and are using HIT (High Impact Touch) cleaning methods in all areas. We successfully implemented social distancing measures whilst providing a takeaway service and rooms for keyworkers, and we're adapting and progressing these measures following Government guidelines so that we can safely open our doors to guests.
We have also relaxed our cancellation policy at this time to allow you to amend or cancel your booking up to 24 hours ahead of your stay so that you can book in confidence.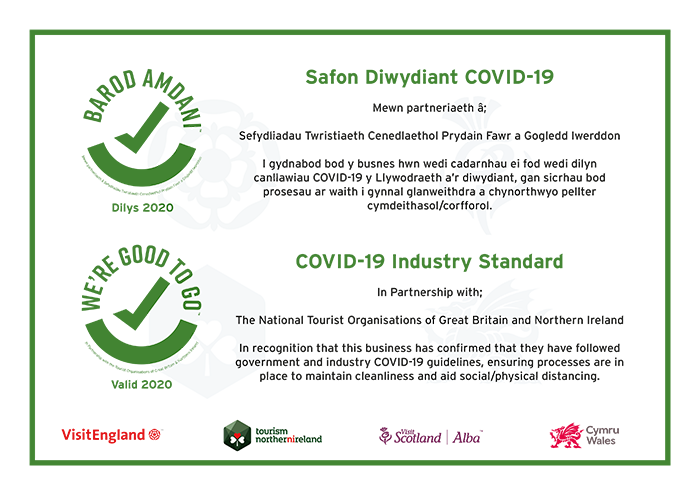 Coronavirus FAQs:

We have tried to answer any questions you may have below, but if you would like any more information please email us at enquiries@great-house-laleston.co.uk or call us on 01656 657644.

What is your cancellation policy at this time?
We have temporarily relaxed our cancellation policy at this time to allow you to amend or cancel your booking up to 24 hours ahead of your stay, so you can book in confidence.

What should I expect when I visit?
Your experience may look a little different in this new normal, but we hope you will still be able to relax and enjoy your stay in the same way, and receive the same friendly service from our wonderful team, albeit with a few small changes we had to introduce for your own safety and reassurance.

What measures have you put in place to ensure we can visit safely? (please note that these are subject to change based on Government guidelines).
Cleaning procedures:
• We have ramped up our cleaning procedures by adopting HIT (High Impact Touch) cleaning methods in all areas. This ensures that contact surfaces are sanitised regularly. We are also practising extra deep cleaning and regular hand washing.
• We ask that before you enter any communal areas you wash your hands thoroughly, we also have hand sanitising essentials at the front desk should you need these.
• To minimise contact we are not offering a daily room turn around service for those staying more than one night. Should you require any top ups of refreshments or linen please feel free to ask at reception. If you do require a full clean throughout your stay please let us know and we can arrange this.
Check-in/Check-out
• We have adapted our check-in and check-out process and we will communicate this to you ahead of your arrival.
Restaurant
• All meals will currently be served in rooms or outdoor spaces until 3rd August when we will be able to open our indoor spaces, including Leicester's Restaurant.
Our Team
• All of our staff have undertaken a COVID-19 awareness course.
• All of staff will be fully trained in our new measures ahead of opening, and should they display any COVID-19 symptoms, will be asked to self-isolate for 14 days.
What should I do if I develop Covid-19 symptoms?
• If, ahead of your stay you develop symptoms of COVID-19 we ask that you let us know and recommend that you stay at home to self-isolate.
• If, during your stay you feel you have become symptomatic of COVID-19 we ask that you do not present yourself in any communal areas and that you contact a member of staff straight away. This can be done from your in room telephone by dialling 0 for reception or out of hours emergency 105 for Ben or 07517227516 for Elinor. You can seek medical advice using NHS direct 111 service or if it is an emergency dial 999. Symptoms include: A New and persistent cough, Fever/High temperature, Loss of taste or smell.

How can I protect myself from Coronavirus?
We advise you to follow all applicable travel and personal hygiene advice, including from Public Health England and the World Health Organisation:
• Wash hands regularly with soap and water or a disinfectant, especially after coughing and sneezing, before handling and consuming food.
• Use disposable tissues when coughing or sneezing and dispose of used tissues carefully and promptly.
• Avoid touching your eyes, nose, and mouth with unwashed hands.
• Avoid close contact with people who appear unwell and avoid sharing personal items
• Public Health England (PHE) recommends against using masks outside clinical settings. Should you decide to use a mask, you should ensure you continue to use all the recommended precautions in order to minimise the risk of transmission.
• Avoid unnecessary, unprotected contact with live animals and make sure you wash hands thoroughly after contact with an animal.
• For more health and wellbeing advice visit: https://www.nhs.uk/conditions/coronavirus-covid-19/
How can I be kept up to date?
Please call us on 01656 657644 if you have any further questions.